No, this is not a drill. If the alert in the image Shown popped up, it means that Your Facebook ads account is disabled. As a marketer or business owner, I'm sure this is your worst nightmare, besides showing up to work in your underwear.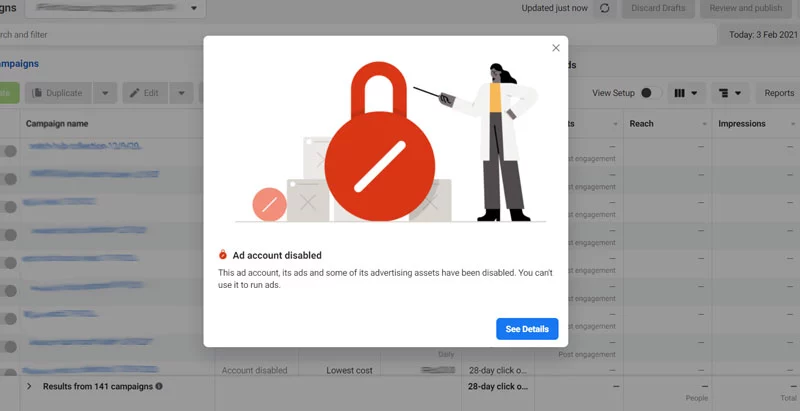 One of the biggest problems I see frequently is people dive into ads without understanding ad policy, and they end up with disapproved ads and disabled accounts.
Always diagnose the problem to know why your Facebook ads account is disabled.
Today you will come to know a few major reasons which lead to Facebook ads disabled accounts.
Advertising Policies
Wrong Method of Cloaking
Disapproved Ads
Multiple accounts from blacklisted IP
Banned billing profile
1. Advertising Policies
 It's a very common mistake that most advertisers make. They never go through the advertising policies. Always check with the policies which content is allowed, and which type of images are allowed on the Facebook advertising platform.
Like any other advertising network, Facebook also takes violations of policies very seriously. Its always good idea to get in touch with Meta support before submitting your ads
2. Wrong Method of Cloaking
Cloaking is a technique used by advertisers, publishers, and SEO experts to present different content to spiders other than the actual users. Nowadays the success of cloaking depends on the steps you have used in cloaking your content or URL.

Always try to use AI-based cloaking platforms like trafficshield.io. Before cloaking your URL it is always advisable that you should warm up your account for a well period of time, so it reduces the chance of getting banned.
3. Disapproved Ads
We have seen users making multiple ads with different ad sets and leaving the account idle. They check there account after 1-2 days, and they end up seeing that the facebook ads account is disabled. Never close your account until your ads are approved, it only takes 30 min – 1 hour for ad review process to complete.
4. Multiple accounts from Blacklisted IP
Facebook ads accounts go blacklisted when multiple accounts from the same IP are created, as attempts to make new accounts from the same IP are detected. Once IP is blacklisted it's a really hard job to get a running account from Facebook. So always try to use different and clean IPs for account creation. For checking IP score and quality one can use trafficshield.io IP Lookup Tool.
5. Banned billing profile 
Like banned IP people make this mistake also. Never use the same billing profile on multiple accounts as they get interrelated and banned.
That's why we're here to help! Use trafficshield.io and keep your account safe from Bots and reviewers. If your account is banned by automation get in touch with meta support to get your account fixed.